Racial Mounts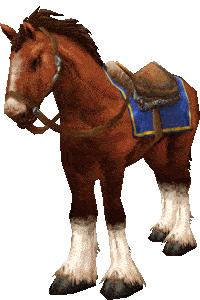 acial land mounts are typically the first mounts players will acquire. To purchase a racial land mount, players must either purchase their race's mount (such as horses for humans, or wolves for orcs), or gain exalted standing with that race's representative faction (such as exalted with Darnassus to purchase sabers). Below you can see all the racial mounts available in the game of World of Warcraft, from Horses to Hawkstriders. You can read some quick information about the mount, prices, and view a few screenshots. Aside from the more customary racial and class mounts associated with your character, there are many special mounts that can be obtained through non-conventional means. All of the special mounts listed below are "very fast" (increases your speed by 100%) unless noted otherwise.
Quick Links:

Horses


Rams


Mechanostriders


Nightsabers


Elekks


Wolves


Skeletal Horses


Kodos


Raptors


Hawkstriders


Type: Ground
Speeds: 60%-100%
Story:

he strong bond between the humans of Azeroth and their warhorses has existed for generations. However, since the fall of Lordaeron, only select varieties continue to be bred throughout Alliance-controlled lands. Most prized among these are the stately Evendales of Elwynn Forest, renowned for their loyalty and even tempers. These horses command a hefty sum, but they reward their owners with steadiness and speed.

Type: Ground
Speeds: 60%-100%
Story:

istinguished by their shaggy coats and massive horns, Barak Tor'ol mountain rams are simple yet proud animals whose fearlessness is matched only by that of their dwarven masters. While these good-natured animals lack ferocity, they compensate with uncommon durability and strength. The thickness of their fur helps them withstand the biting winds of Khaz Modan and the sharp claws of the mountain beasts that populate the region.

Type: Ground
Speeds: 60%-100%
Story:
he gnomes' revolutionary mechanostrider represents yet another marvel of their engineering prowess. Each strider is specifically designed with the individual rider in mind. They are constructed using state-of-the-art steam compression, servo-motor dynamics, and duro-steel plating. This offers the rider a reliable and durable means of transportation. Some claim that the mechanostrider's lack of true sentience makes for a very dumb mount. However, the gnomes counter that under a skilled rider, the mechanostrider is more responsive than even the best trained live mount.

Type: Ground
Speeds: 60%-100%
Story:

efore they were domesticated by the Sentinel Army and trained as mounts, Kalimdor's savage nightsaber panthers were considered to be among the continent's most vicious inhabitants. While many of these grand predatory beasts still prowl the dusky shores and forests of the night elves' homeland, the finest pedigrees of the species, recognized by their superior swiftness and agility, now serve a more practical purpose for those skilled enough to ride them.

Type: Ground
Speeds: 60%-100%
Story:

lekks are one of the oldest living species on Draenor. These majestic creatures graze contentedly across the grassy plains of Draenor, relying on their huge size and the support of the herd to keep predators at bay. Draenei explorers have determined that the animals pose no threat, as long as their young aren't endangered or their water supply jeopardized. They have the endurance to cover great distances and the ability to defend themselves by ramming or stomping attackers. The Elekk's long trunk allows it to sniff out sources of food, avoid danger, and steal snacks from people's bags when they're not looking. While it's not stated exactly how long they can live, a single Elekk's life can apparently span several orc generations. Elekk tusks continue to grow throughout the animal's lifetime, meaning that the best way of telling the age of an Elekk is by the size of its tusks. It is said an Elekk never forgets.
This mount does not exist in Vanilla/Classic version of World of Warcraft, please see the other tabs.

Type: Ground
Speeds: 60%-100%
Story:
olves are indigenous to many parts of Azeroth. They live on every known continent and have a wide variety of subspecies and social habits. Although most are hostile toward anyone who trespasses on their territories, a few unique dire wolf packs have befriended the Horde in recent years. These cunning and ferocious creatures have found an especially welcome home among the orcs, who admire their endurance and keen survival instincts.

Type: Ground
Speeds: 60%-100%
Story:

ot even the noble steeds that succumbed to the Plague are allowed any rest in the hands of the Forsaken. Through an arcane mix of alchemy and necromancy - the Royal Apothecary Society has raised numerous fallen steeds to serve as mounts for the vengeful dead. These undead steeds are as strong as they were in life, and far more resilient. An unfortunate characteristic, however - one that the Forsaken are none too enamored with is the steeds almost universal stubbornness. From death and beyond, the mighty steeds still cling to the willful spirit that served them in life.

Type: Ground
Speeds: 60%-100%
Story:

wifter and slightly smaller than their wild cousins, Kodo mounts nevertheless demonstrate the same resilience and fearlessness found in their untamed brethren, traits that serve them well when bearing their equally resolute riders. During the Third War, the orcs received a pack of tamed Kodo beasts as a gift from Cairne Bloodhoof in return for Thrall's generosity. The colossal Kodo beasts of the Kalimdor plains then became valued allies of the orcish Horde. The mighty beasts were charged with carrying the orcs' pounding war drums into battle. The huge Kodo , serving as symbols of orcish might and valor, also use their enormous size and strength to scatter enemy forces. When enraged, Kodo are fond of devouring their enemies whole The orcs now tell fables about the Kodo .

Type: Ground
Speeds: 60%-100%
Story:

he savage ferocity of Kalimdor's raptors has enthralled the Darkspear trolls since their arrival. They consider a raptor to be the truest form of a hunter, and as such, the tamed Troll Raptor is their mount of choice. A tamed raptor is truly a fearsome beast, as a skilled troll is able to channel the reptilian steed's savagery to suit the rider's will. A tamed raptor is also one of the most auspicious signs of status amongst the trolls; many have died trying to tame these swift and deadly hunter beasts, and to possess one indicates great station.

Type: Ground
Speeds: 60%-100%
Story:
hen Kael'thas led his followers to the ruined world of Outland, the vibrant hawkstriders that were brought with them proved to be welcome reminders of the blood elves' beauteous home in Quel'Thalas. Valued for their trustworthiness and speed, these colorful avian creatures embody the inherent splendor of the forests within the blood elven kingdom. While tragedy has befallen Quel'Thalas in recent years, the hawkstriders remain an integral part of the elves' day-to-day lives.
This mount does not exist in Vanilla/Classic version of World of Warcraft, please see the other tabs.